Shelter Alternatives Sold to Ed Tuchler
April 10, 2005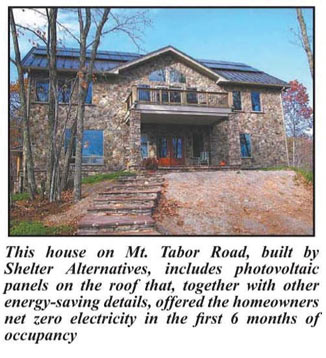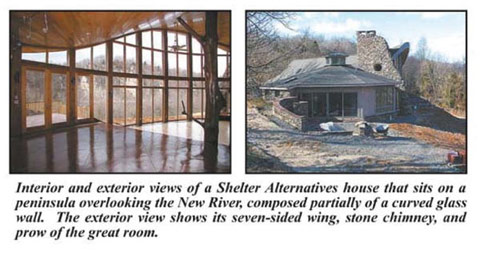 Although selling a company is a major business deal, to Ed Tuchler and Eric Sallee it seemed to be the next logical step. In 1988, Eric Sallee and Cliff Dowdy started Shelter Alternatives. Sallee was 27 and single. Eleven years later, he bought out Dowdy and became the sole owner. Just a year before that, in 1998, Sallee, Don Hughes and Stan Whitmarsh began Progress Street Builders to, as Sallee explained, "fill a need in Blacksburg's growing for-sale new home market." And effective the first of March 2005, Tuchler bought out Shelter Alternatives.
"I decided to sell Shelter in part because Progress Street Builders is growing and has some new, exciting and challenging projects on the horizon. In addition," said Sallee, "I had come to the realization that I had essentially run out of hours in the day in order to perform my work at Shelter, my work at Progress Street Builders, Inc., my involvement with The Village at Tom's Creek, and still have some time and energy left for my family."
Tuchler had been working at Shelter since its inception. "I had known Cliff a little through building, before, and I was looking for work," said Tuchler, who described himself as the manager of Shelter, although he is also the sole owner. He began working for Shelter on its first house, doing carpentry, under the premise that the owners would probably have about two weeks' worth of work for him. "Little by little, it evolved to where we were doing more than one project at a time. On this first job. Eric was pretty much running the company from the office, and we were doing the building from the field. It evolved at some point to where I was a lead carpenter and started taking on some of the management in the field." And from there, said Tuchler, Shelter Alternatives has segued to a format of field supervisors running the jobs.
Tuchler described his business as a design/build firm, meaning that they offer both services. They prepare a job in the office with complete estimates and plans, and then they hand off the job to the supervisors. "It is their responsibility for making sure that everything happens," said Tuchler. The company, which began with one spec house, has now grown to three full time designers (Chris Hudson, Joe Bassett and Eric Jones), a full time estimator, three part-time bookkeepers, and a selections coordinator.
"We have focused mostly on custom work over the last eight to 10 years," said Tucher. "[In contrast], Progress Street Builders is a speculative company. I have been, over the last several years, taking over more and more of the management duties from him, so he sold the company to me. It pretty well naturally fell into line." Tuchler said he's not changing anything - the company works well as is. His ownership is, in effect, taking over the last little bit that he hadn't already taken over in recent years.
Shelter Alternatives, he said, is distinguished further by building houses that are "well built and sensitive to energy usage and the environment. That's a big push fur us. Every time we carve up a piece of land, we feel we take responsibility for doing it responsibly."
Tuchler said an example of this is their use of damp spray blown-in cellulose, which is very good at tightening up a house and stopping the air flow, and is better than regular fiberglass insulation. They built a house for Sallee, said Tuchler, which is a 5-Star Energy rated home due to its tight construction, the efficiencies of the heat pumps, the insulation values, the quality of the windows, and the sealed ductwork for the heating system.
"A lot of this is paying attention to the little details," said Tuchler. "This is the place to make the difference." He went on to say that having the supervisors concentrate solely on their jobs, and not on the bills or looking for the next job, allows them to focus on the details. "When we hand off a project to the supervisor, there are few questions left as to how a project should be completed."
A house of note was completed last year off Mt. Tabor Road. Tuchler described this house as having a photovoltaic electrical system on the roof that is essentially an array of panels which collects solar energy and turns it into electricity. Although the owners are connected to the electrical grid, from March through October 2004 they had net zero energy usage. In addition, this house has an instantaneous hot water heater, and almost all of their lighting relies on fluorescent bulbs.
Another house, this one in Eggleston opposite the cliffs and on a peninsula overlooking the New River, is one of the more unique designs the company has ever done, said Tuchler. "The river flows around it on three sides; it's somewhat of an organic design, with the roof curved and sloped, and the main walls, curved with glass, face across the cliffs," he said. The materials used on the exterior were local stone and wood. This home, also, has an instantaneous hot water heater as well as in-floor heating.
Because many of the homes they build are for owners who intend to stay in them for a long time, Shelter Alternatives is very familiar with accessible design requirements. "One of the exciting things, for me, is meeting the needs of the clients. That's why we're custom builders. We take what they want to do and make it a reality," said Tuchler. His company is now doing a lot of additions and remodels as well as new home construction because, he said, there is less and less land available in the Blacksburg area.
He said of his company that the people who work there are great. He intends to continue working with Sallee, as well "I appreciate the opportunity he's given me, and the backing he's given me as we move into the future. He is not still a part of the company, in any way, but in terms of consulting with me and working with me, it's nice to have a working relationship with him, and I think that's just another plus."
Sallee echoed those thoughts when he said, "I've worked for 17 years at Shelter, and if anyone knows the company, its people, its culture and its customers, it is Ed Tuchler. I'm confident the company is in able and committed hands."
Source: The Roanoke Times, Sarah Cox, Sunday, April 10 2005