Shelter Alternatives' President, Ed Tuchler, Receives the 2020 Distinguished Business Leader of the Year Award from the Montgomery County Chamber of Commerce
December 03, 2020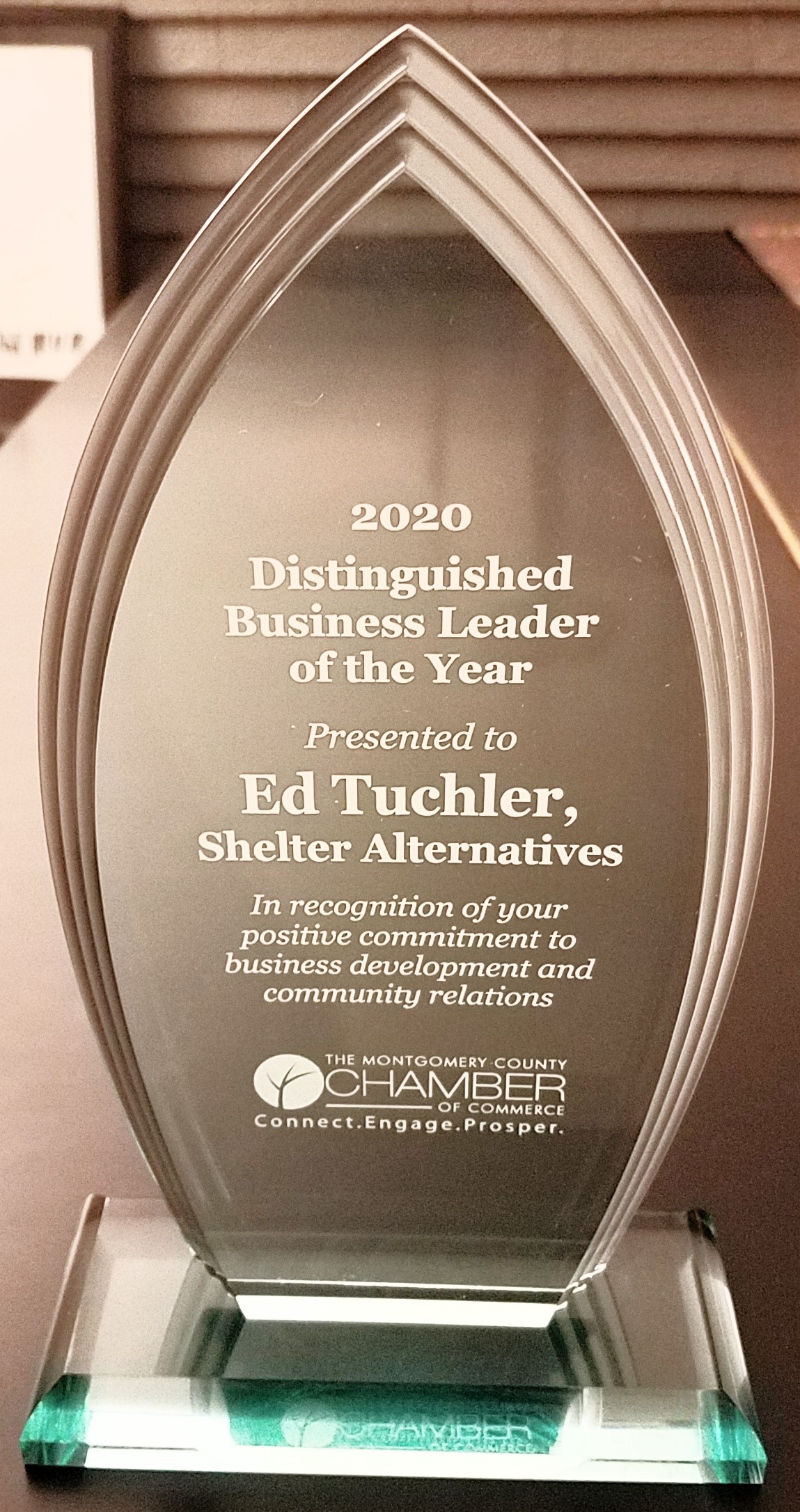 Virtual 2020 Chamber Annual Meeting and Award Ceremony – December 3, 2020 –
In order to stay safe and yet still celebrate our community's leaders and businesses, the Montgomery Chamber of Commerce Annual awards were presented virtually this year in an award ceremony entitled 2020, A Year to Celebrate and Innovate. This year brought tremendous change to businesses on every level and the Chamber recognized those that have been innovative and resilient during the COVID-19 pandemic.
Ed Tuchler, President of Shelter Alternatives, Inc., won the award for Distinguished Business Leader of the Year, an award that recognizes professional excellence, promotion of the community, and positive commitment to business development.
Ed started his career with Shelter Alternatives in 1988 when he took a temporary position as a carpenter. Over the years, he rose through the ranks to become a field supervisor, project manager, and ultimately, in 2005, president and the company owner. In 2007, he started a new division of Shelter Alternatives, Energy Check, that has allowed his team to serve hundreds more homeowners in the New River Valley and to educate the profession and the public on the value of building science and home performance. The mission of Energy Check coincides closely with the commitment of the Town of Blacksburg Climate Action Plan, working toward reducing community-wide greenhouse gas emissions by 80%.
Ed strongly believes in supporting the local economy and in keeping with his company's mission, has been a contributing member of a variety of groups around our community, including the LX Council, the New River Valley Home Builders Association, the Montgomery County Chamber of Commerce, Downtown Blacksburg, Inc., Blacksburg Business Relations Committee, the Town of Blacksburg, Go Green NRV, the New River Land Trust, and Habitat for Humanity. Shelter Alternatives also sponsors regional arts and events such as A Musical Tour Along the Crooked Road, Floyd Fest, Steppin' Out, and Solstice Fest, providing funds and volunteers.
This award embraces the team's core values:
Stand by all commitments and follow up until it's right.
Embrace creativity, new ideas and growth.
Foster teamwork and community involvement.
Focus on people and planet, not just profit.
Find music in every day-and play it.
Congratulations to all the Chamber Awards nominees and winners.