Shelter Alternatives Recognized at EarthCraft Celebration of Excellence
October 20, 2017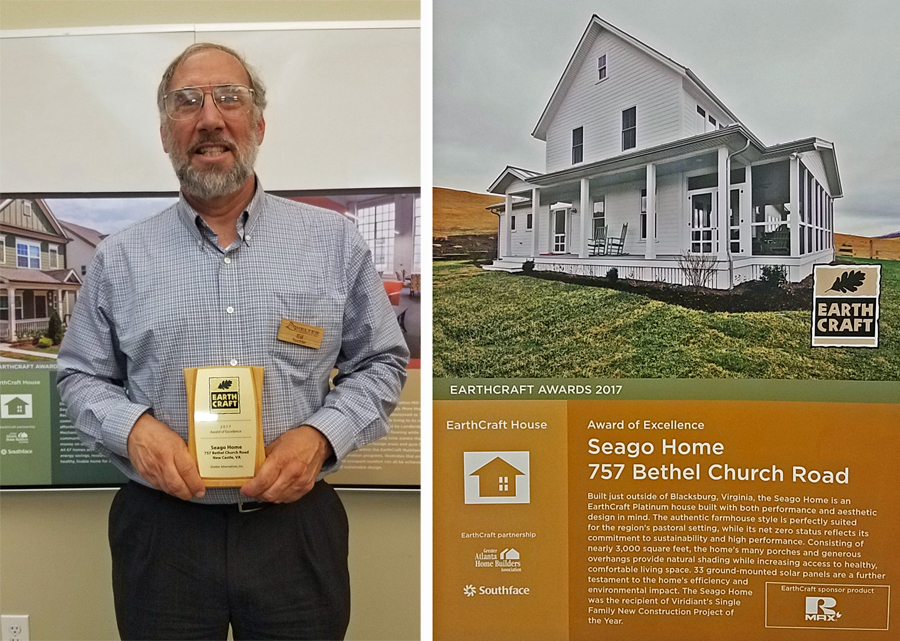 The highest performing EarthCraft-certified home in Virginia has now earned recognition across the Southeast US. Shelter Alternatives of Blacksburg was presented a 2017 Award of Excellence at the EarthCraft Celebration of Excellence held at Southface Energy Institute in Atlanta, Georgia on October 19th. Owner Ed Tuchler accepted this award which recognizes projects that exhibit steadfast commitment to sustainable building practices, and acknowledges builders in 7 states of the southeastern United States whose work continues to shape and improve the green building industry. Asked how his company managed to win this prestigious award over builders serving Atlanta, Charleston, and the rest of the region, Tuchler replied, "We embrace science with creativity and intention to improve the livability of our homes."
Joe Bassett, a longtime designer for the Shelter Alternatives team, worked closely with the homeowner to design the rural, Craig County home. EarthCraft testing and certification rated this home as net-zero performance, meaning the estimated total energy used by the efficient home annually roughly equals the anticipated annual energy production to be generated on site by solar panels. Homeowner Annie Seago states, "We're thrilled with the whole process…. [And] feel so lucky to be working with the Shelter team." Others must agree, because as Ed Tuchler notes, "This year, 25% of Shelter Alternative's new projects are serving previous clients."
The award-winning project sits where the owners lost their previous home to fire, and features authentic farmhouse style and function. This home had been previously recognized as Viridiant Single Family New Construction Project of the Year as well as the top performing EarthCraft certified home built in Virginia in 2016. The company was surprised to be
chosen above projects built throughout the seven southeastern states where Southface operates the EarthCraft certification program that was designed
specifically for the mixed-humid climate of this region.
Shelter Alternatives has been building energy efficient homes for most if their 29-year history, with energy testing on its houses dating back to the early 1990's. The high level of performance that made this home exemplary was achieved with efficiency focused design elements based on current building science, advanced construction techniques and renewable energy generated on the site by photovoltaic panels. Beyond the renewable energy, some of the elements that helped achieve net zero status were state of the art insulation and air sealing of the building envelope and the choice of high performance appliances and lighting. The client also made special effort to minimize the use of volatile chemical products even with all the custom cabinetry featured in the home.
An interactive virtual tour of the property can be found in our gallery, titled Phoenix.