Shelter Alternatives Recognized as NRV Green Company of the Year
December 16, 2015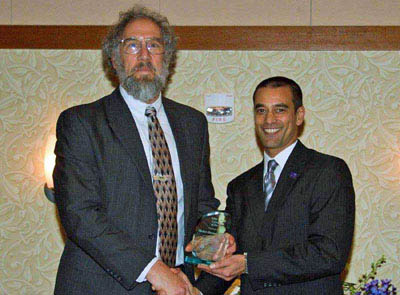 At their 2014 Annual Meeting and Awards, the Montgomery County Chamber of Commerce awarded Shelter Alternatives of Blacksburg with the New River Valley Green Company of the Year Award.
Shelter Alternatives, Inc., a design-build firm in Blacksburg was nominated by their Chamber peers for this award, given to recognize a business that values and practices sustainability in their office, business operations and outreach.
According to offfice manager, Gregg Moneyhun, sustainability governs all decisions made in the daily operations of the company, "product choice, energy management and reuse/recycling protocols are just some of the ways we make it a priority." That same philosophy is echoed as part of the core values of the company, directing employees to take responsibility for their actions and impacts on the environment.
Home efficiency is a large factor in the identity of the company as a green business as well. Two of Shelter Alternatives, Inc. homes were among top 10 most efficient homes certified by EarthCraft Virginialast year. The company also includes a home performance business, Energy Check, which is devoted to addressing the need in the community for improving the energy efficiency of the existing and aging housing stock. Within the NRV, 1-in-2 homes were built before 1974, nearly 1-in-4 were built prior to 1960.
Owner Ed Tuchler accepted the award on behalf of the company and reiterated its value to him, "we are grateful to the Montgomery County Chamber of Commerce for recognizing our commitment to promoting sustainable business practices in the New River Valley."