Design Excellence Award Presented to Shelter Alternatives
February 05, 2014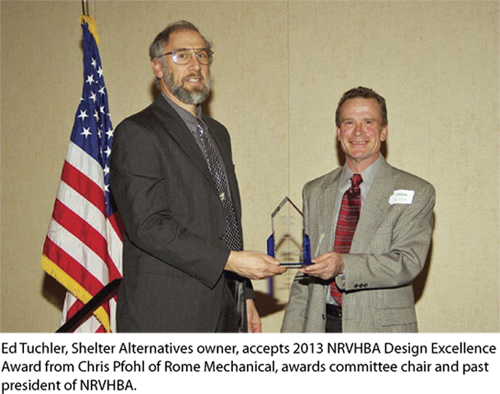 Shelter Alternatives was awarded the 2013 Design Excellence Award by the New River Valley Homebuilder's Association at their annual gala held on January 25th, 2014. Owner Ed Tuchler was honored to receive the award as it is decided upon by colleagues in the local building community and serves to recognize superior and unique design aspects in a project.
In addition to being three-time past recipients of Builder of the Year, Shelter Alternatives receives this seventh Design Excellence Award since 1993. The design build team recently celebrated 25 years of building dreams from visions for homeowners in the New River Valley.
The 2013 Design Excellence Award was awarded for the Minnick residence in the Fiddler's Green neighborhood in Blacksburg. The home was designed by Shelter Alternative's Joe Bassett and is a contemporaryCraftsman-style home with Farmhouse influences. It reflects the clients' desire for a traditional but modern home that would reflect their values, be in harmony with its natural setting, and serve the practical needs of their young family. Consistent with other homes designed by this builder, the design focused on both energy efficiency and comfort. This home is expected to achieve Earthcraft and Energy Star certifications, with an anticipated HERS rating of 44, which means the Minnicks can expect their utility bills to be about half of a typical house of this size.