Shelter Alternatives Recipient of Multiple Awards at the 2017 Sustainable Leadership Awards
April 25, 2017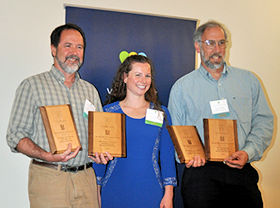 RICHMOND, VA — [April, 2017] — On Thursday, April 20th, just two days before Earth Day, Shelter Alternatives, Inc. of Blacksburg, Virginia was honored at Viridiant's Sustainable Leadership Awards, receiving four awards for homes built last year in the New River Valley. The awards received were Single Family New Construction Project of the Year as well as honors for having designed and
built the top three High Performance EarthCraft Homes in Virginia.
The annual awards recognize the region's premiere developers, builders, architects, government officials and other industry professionals for their work in advancing the benefits of sustainable building through the EarthCraft family of green building programs. Shelter Alternatives was honored on Thursday evening at a ceremony in downtown Richmond which
brought together close to 200 individuals representing home builders, non-profit and for-profit housing providers and developers, affordable housing advocates and those interested in creating green housing opportunities in Virginia. Awards were presented in a variety of categories to cover new construction, renovation, single family homes, multifamily housing and more.
"Building effient and practical homes has always been a priority for our team" says owner Ed Tuchler "so learning that we had been recognized by Viridiant as having built the three most energy efficient homes they have certified in Virginia is exciting and inspiring." Two of the homes are rated as net zero homes, meaning that they produces as much energy as they uses, through design features, building features and the installation of solar panels.
The home that was recognized as Single Family New Construction Project of the Year is located in Craig County. With a modern farmhouse look, it gives up nothing in style and livability to achieve its net zero status. The owners lost their previous home to fire on this site, and they paid close attention to styling, livability, and efficiency throughout the planning and construction of the replacement home. Through strong detailing of the building enclosure and careful selection of mechanical systems, the power loads were reduced to where the photovoltaic system could make up the difference.
"It's an honor to recognize the dedicated individuals who continue to amaze us with their passion for high performance home building," said KC Bleile, Executive Director of Viridiant. "This year's nominees and winners exceed building expectations with their cutting edge projects that are transforming today's housing market and serve as proof that the science of sustainability can deliver a housing future that is more affordable, more durable and more livable."
For more information about the 8th Annual Sustainable Leadership Awards, visit http://www.viridiant.org/aboutus/events_annual/viridiant-sustainable-leadership-awards/.